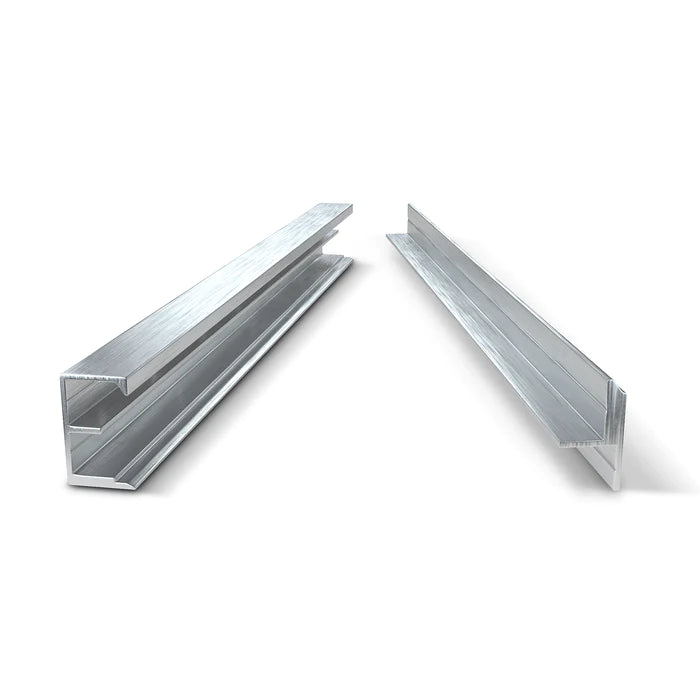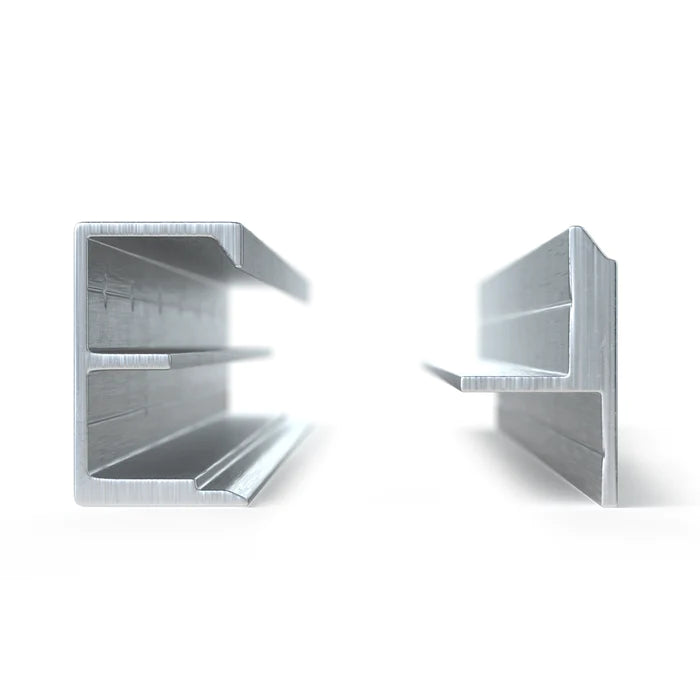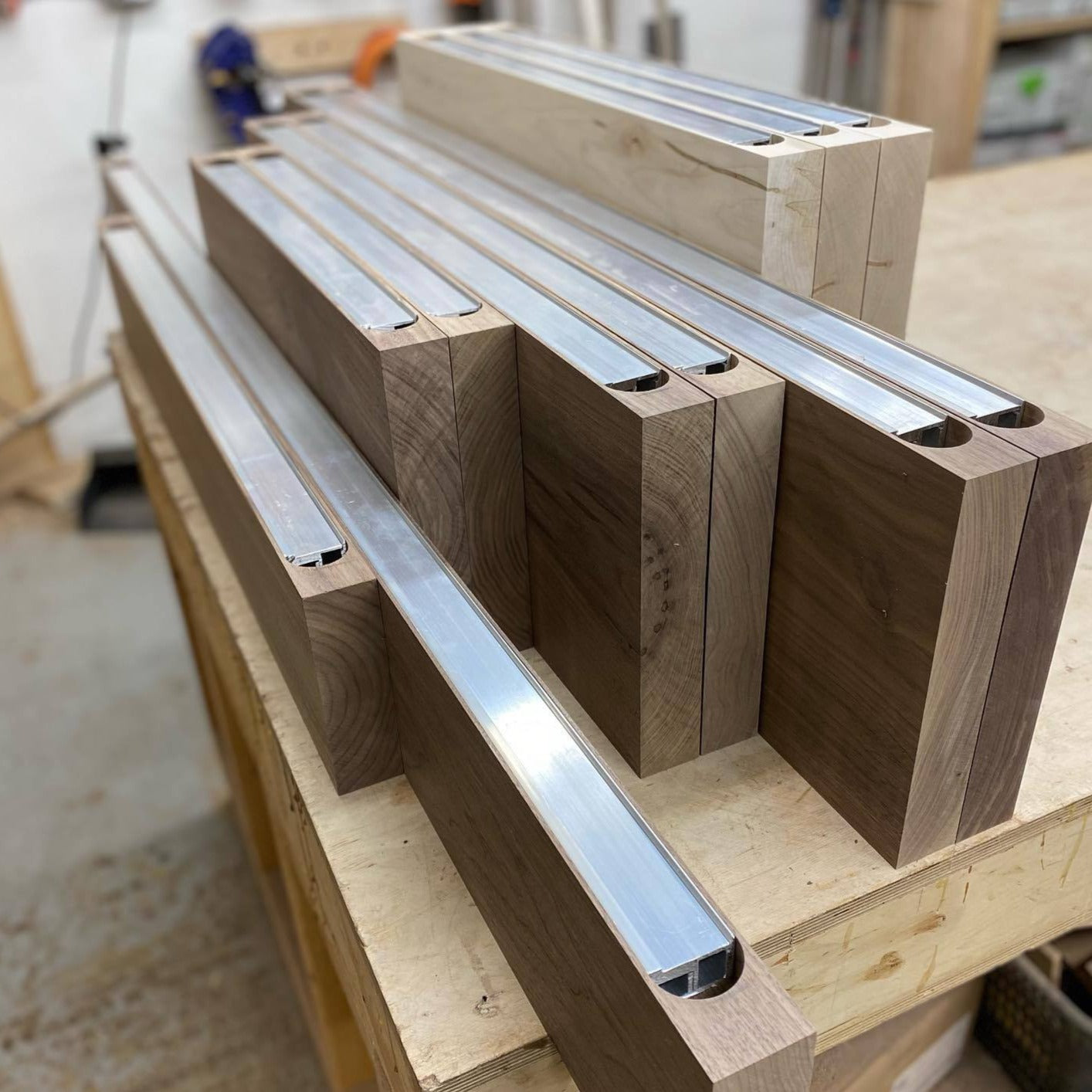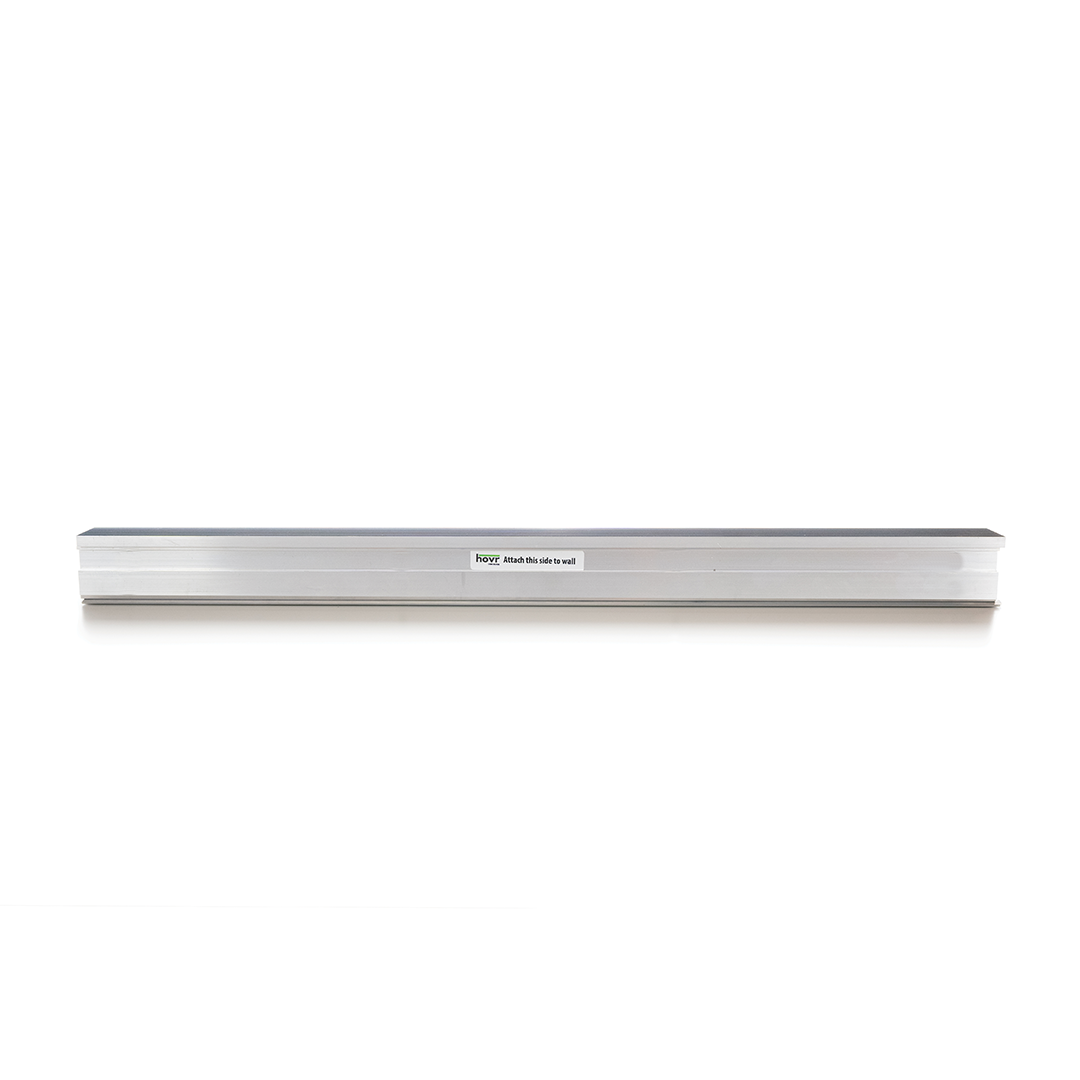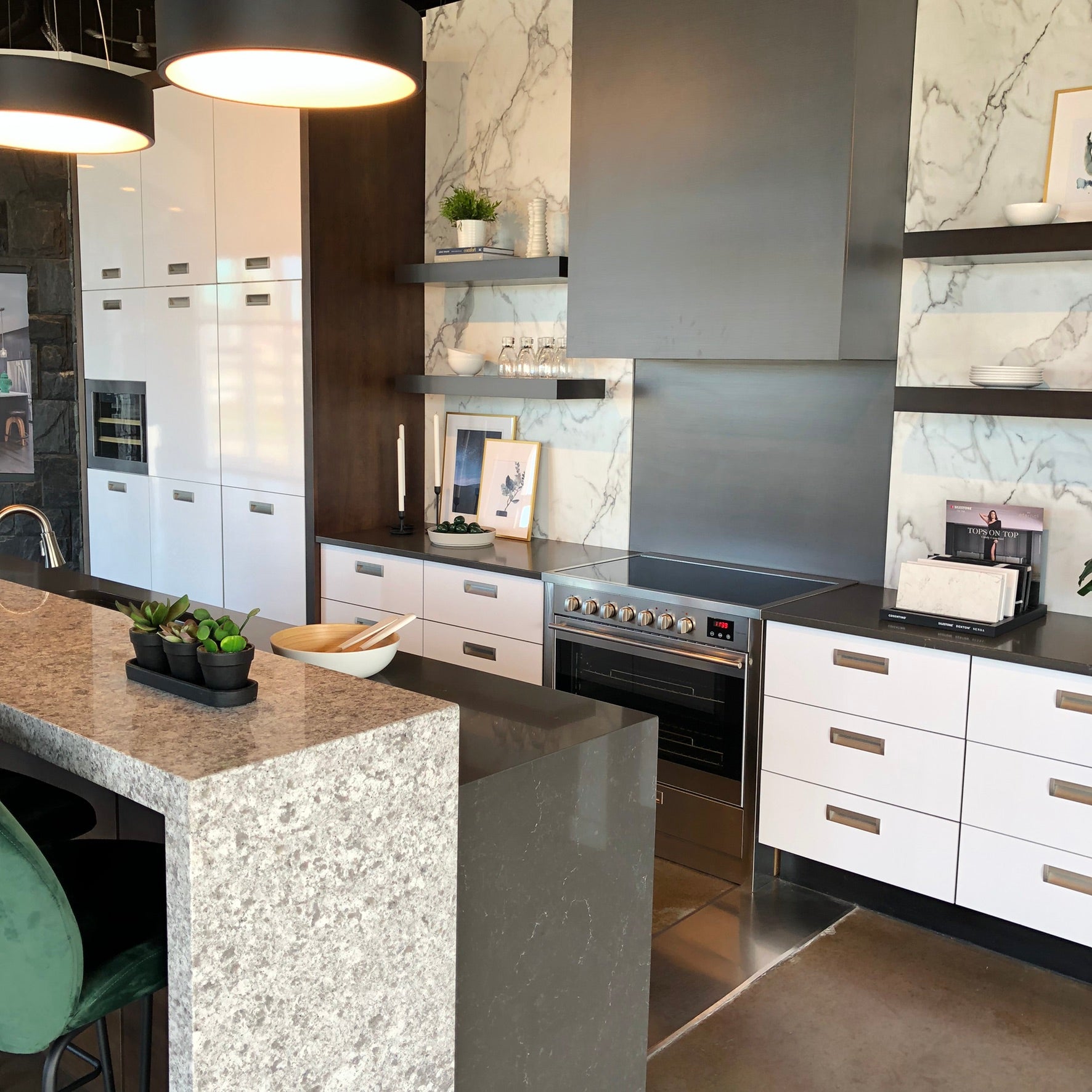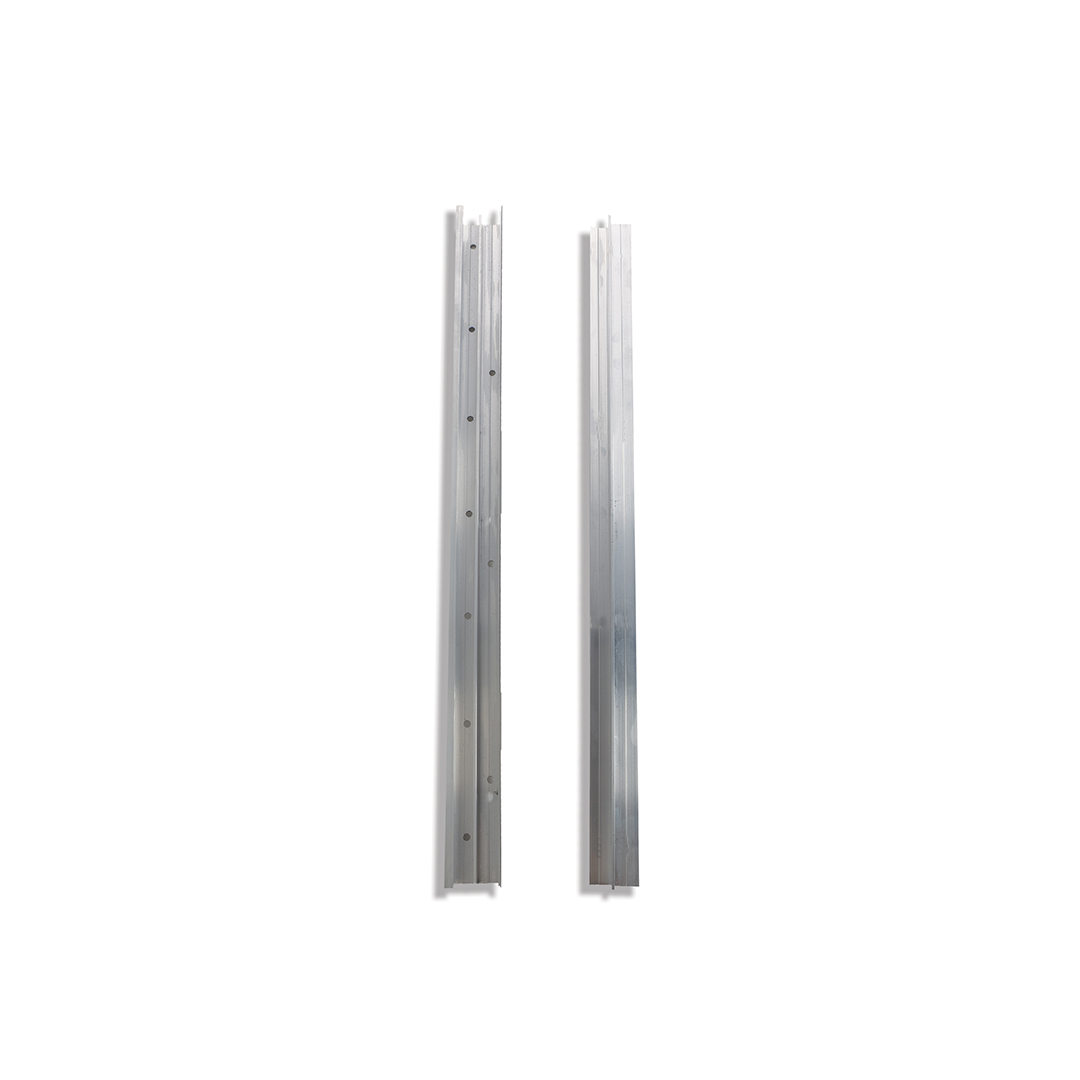 Hovr Bracket System
Made from 6063 T6 aircraft-grade aluminium, the Hovr Bracket System has a maximum load capacity of 300lbs. 30 day money back guarantee. Learn more below.

First time ordering? Make sure you add-on the Installation Bit Pack.

Free shipping when your purchase is over $100 (excludes 8 FT brackets). Free shipping on 8 FT brackets when purchasing 4 or more.

FAQs
In order to save some material, as long as the shelf and bracket are installed correctly, the bracket is strong enough to be using the 1:2 ratio. Meaning that the brackets can be 1/2 the length of the shelf itself. But we always suggest to use 2 studs at a minimum.
No. 99% of the time, you will not be able to see underneath the shelf and the set screws. If that is still a concern, you can purchase a filler for the holes.
We generally recommend your shelf be at least 2" thick when using the aluminum bracket - for a standard installation, we advise never going thinner than 1 ¾ in thickness for your shelf at the absolute minimum.
This is because the bracket itself is 1 1/2" thick, so you will need at least 1/8" of additional material on the top and bottom of your shelf to house and conceal the bracket. Just remember to leave yourself that 1/4" of shelf thickness when selecting your material.
In general, it's best to leave at least 1/4" at the top and bottom of your shelf, since its far too easy to blow out 1/8" with the smallest movement. See below for a diagram of the recommended shelf thickness.
Tech Specs
Height
• 1.506 Inches / 38.2524 mm
Depth
• 0.904 Inches / 22.9616 mm
Length
• 23.75 Inches / 60.325 cm (2 FT Brackets)
• 47 Inches / 119.38 cm (4 FT Brackets)
• 94 Inches / 238.76 cm (8 FT Brackets)
Mounting
• Male Bracket to Wall
Color/Finish
• Mat Aluminum Finish - Non-Coated
Gauge/Material
• 6063 T6 Aluminum
Weight Capacity
• 300lbs Average at an 8 Inch Depth*
Order Info
What's In The Box
• Hovr Bracket System
• 1 x Corresponding Alan Key
• 1 x Drill Bit Small (3/16")
For each 2 FT
• 4 long screws
• 14 short screws
• 3 set screws
For each 4 FT
• 8 long screws
• 25 short screws
• 4 set screws
For each 8 FT
• 16long screws
• 50 short screws
• 8 set screws
Each Order Comes With
• No more floating shelf sag
• 30 Day Money Back Guarantee
• All Required Screws
• Any length possible (you can combine brackets together)
• 17/64 HSS Steel Drill Bit (Set Screw Install)
• 5/16 #18 HSS H3 Tap Bit (Set Screw Install)
• Epoxy Glue (Glue Install Method)
• The bits can be found in our Installation Bit Pack
We recommend you grab an Installation Bit Pack to ensure you have everything to go ahead with your installation.

It comes with the 17/64 HSS Steel Drill Bit & 5/16 #18 HSS H3 BTM Tap Bit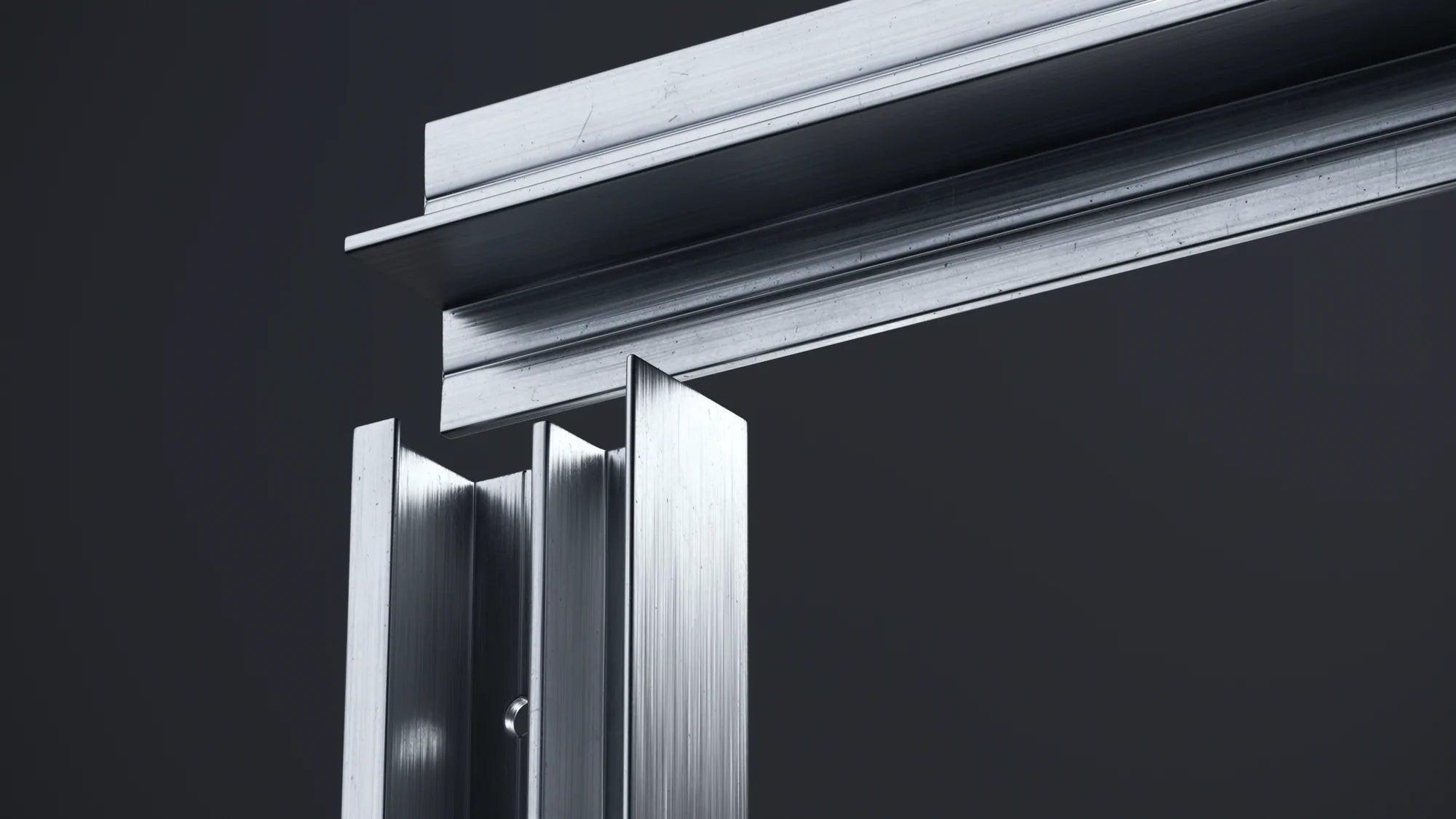 International Patent
13x Stronger
The Hovr Bracket System uses a male and female bracket that interlock and screw together to form unparalleled strength. The average load capacity is 300lbs.*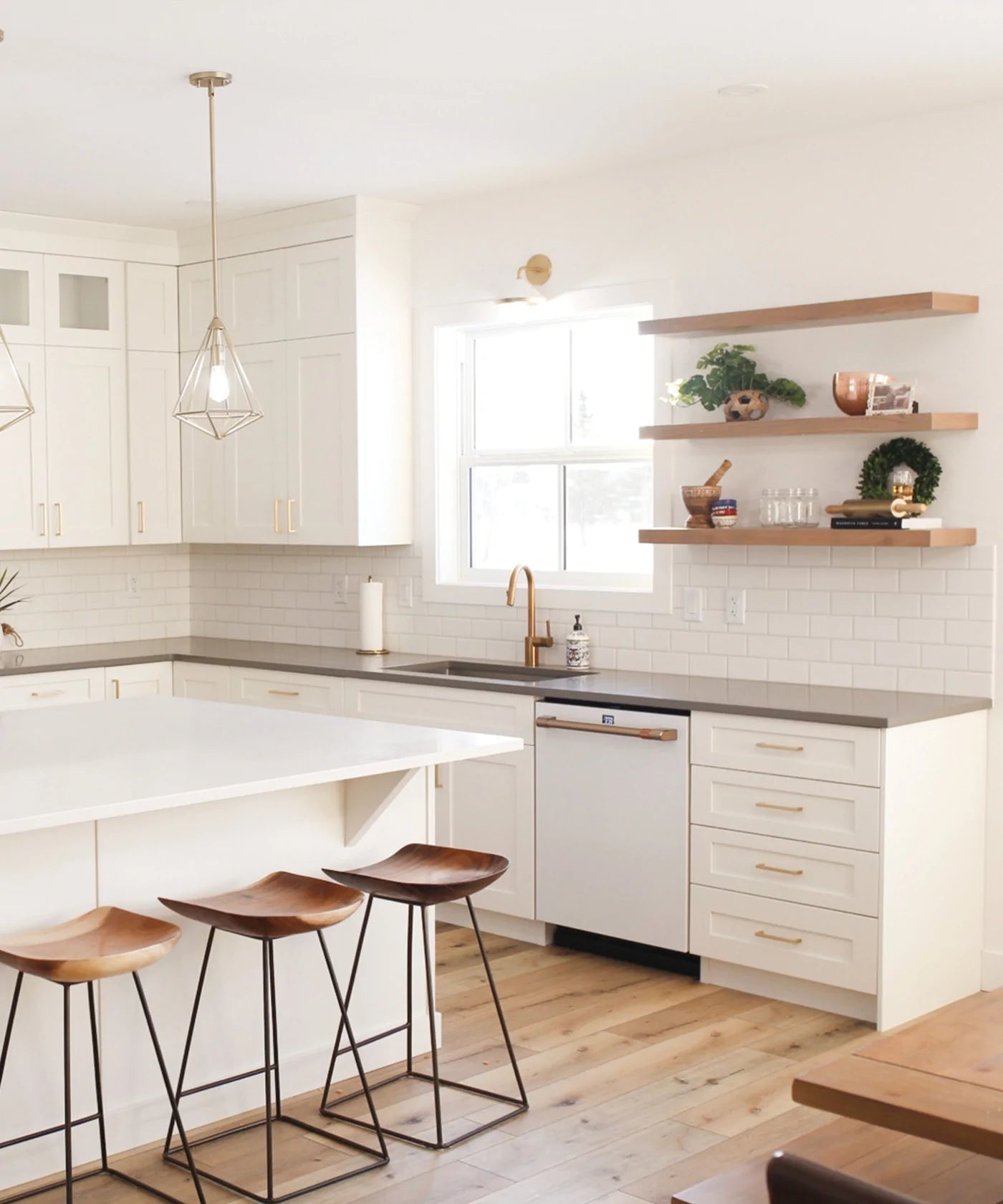 ENGINEER APPROVED
Long lasting
Our average weight load capacity for an 8 inch depth is 300lbs. Have clients to be confident in your project. And withstand usage over time.
What our customers say
2 Quick Testimonials
When I received my brackets I never received the set screws or any of the mounting screws. I also order and extra box of 2 different sizes of screws and never received them either. I tried to call into Hovr but am only aloud to email and wait for a call back.
The strongest
At the end of the day I really do love the quality of the hovr bracket system. It's a little tricky to install if everything isn't perfect but if you read the instructions carefully before you start it's not a problem. Definitely the best floating shelf bracket system out there. Definitely recommend!
Works perfectly
I will not build or sell a floating shelf without using the Hovr bracket system. I build and sell quality - without exception. Brandon, HD Built LLC
Worked out great. Was less intimidating than I imagined
The brackets themselves work great and the instructions / instructional video is pretty good. I purchased two of these and will continue to look for these in the future as well